About Us

David W. Oaks, Revolutionary Consultant and Founder of the Aciu! Institute, LLC
David W. Oaks is the former Executive Director of MindFreedom International, an independent nonprofit coalition for human rights and alternatives in mental health, founded in 1986. David is a founding board member of Oregon Consumer/Survivor Coalition (OCSC), a nonprofit that is a "united voice for change" for Oregon's mental health consumer/psychiatric survivor organizations. 
Raised in a working class neighborhood of Chicago, David attended Harvard on a scholarship. The pressures of an Ivy League school, including stress from his very different background, led to his being placed in psychiatric institutions five times. There he experienced forced psychiatric drugging in solitary confinement. A Harvard social service agency assigned David as a community organizer in mental health. He graduated with honors and, soon after, his advocacy for the rights of psychiatric patients evolved into his career and a lifetime of service to humanity.
David has been a psychiatric survivor human rights activist since 1976, including co-founder and former director of MindFreedom International (MFI), one of the leading independent coalitions for human rights in mental health. As an executive director of MFI for four decades, among many achievements, David raised a total of $1 million–all the more challenging given the extent that this population has been marginalized.
A severe accident in 2012 put David into a power wheelchair as a quad with additional disabilities, including limiting the capacity of his hands and voice.
To transform this lifetime of experiences into a positive, David started a green disability consulting business, Ačiū! Institute. The agency Vocational Rehabilitation helped provide support for this launch. 
Five Principles
You may be familiar with green businesses adopting three bottom lines: Planet, People, then Profits. A few businesses, including the Ačiū! Institute, have adopted five bottom line principles:  
Purpose: A global and nonviolent revolution for sustainability, empowerment and independence.  
Passion: Let us flip our modern humanity's green disability into confronting this climate emergency, now.  
Planet: Because of our collective green disability, it may appear too late. But rather than ask why me, why me, why me, empowered disability leaders know that we need to struggle back even without all the answers. Take action!  
People: Especially supporting Marginalized And Disempowered (M.A.D.)
Profit: Oh, did we mention that Ačiū! Institute is a for-profit business? We do handle many gratis clients, but we are also looking for solid, paying clients.  
If you would like to support this effort, please do not make donations to Ačiū! Institute. Instead, you can support the medical trust fund for David Oaks. Giving to this trust fund is an effective way to support David's reactivation and independent living. Even though your contribution is not a tax-deductible donation, this fund has proven crucial for David for years. As he launches his consulting business, support for his medical trust fund is more important than ever. http://davidwoaks.com/welcome/support
---
Why ačiū?
All of David's grandparents were born in Lithuania. This has one of the oldest European languages. The word for "thank you" is ačiū, which sounds like a sneeze. 
This name was inspired by David's friend, Patch Adams, MD. Patch and his clown troop created Gesundheit! Institute https://www.patchadams.org/ to profoundly change the medical system.
The joke is, the Lithuanian sneezes, "ah-choo!" A friend says "gesundheit" (good health). The Lithuanian thanks the friend by saying "ačiū." The friend replies "gesundheit." The Lithuanian says "ačiū." The friend replies again "gesundheit." Etc., etc., etc.
And don't we need support to say "thanks" to all who have supported us? That is the spirit of Ačiū! Institute, LLC.
---
Thanks much to these additional helpers for our business consulting launch. Of course, Ačiū! Institute maintains responsibility for our business activities, but we very much appreciate this support.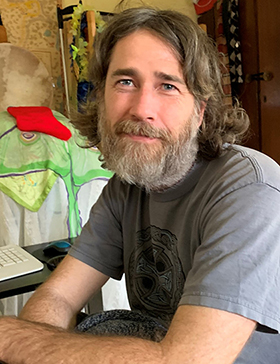 Jeffrey Bousquet
Jeff has worked with Ačiū! Institute for many years, since its beginning. His main focus has been building a special online community social network that will be unveiled soon, Earth Love Revolt, to support private and independent cooperative leadership by anyone who support green disability, saving our planet, and revolution. Ačiū!
Chris Luna
After development by several creative artists, Chris actualized the vision of the Ačiū! Institute logo. Chris brought professionalism, artistry, originality and speed to this important beautiful work. Ačiū! For more info.: https://chrismluna.myportfolio.com/